jonh : robots : legos
Lego Robo-Rats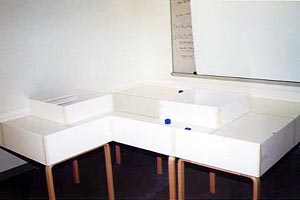 In the Fall 1998 robotics course, most students built lego ``robo-rats,'' which were designed for a competition in which the rats tried to find lego ``food'' and return it to a home location. This records the strategies used in the course for the inspiration of future participants, and to record some Handyboard tips.
The Course

The Teams
The teams, in order of competition results:
Grim Reaper (a close second)
P.A.B. and Smack Pusher (tied for third)
The photographs used in the pages above were taken by Lillie Ng and Jonathan Bredin. Their collections are: Lillie's robot photos and Jonathan's robot photos. This page describes how some rules fared in the 1998 competition, and what we might do to fix them next year.

The link above points to some resources we found helpful in repairing Interactive C for the Handyboard.